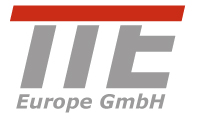 Meet TEE-Europe
SILVER SPONSOR
TTE-Europe GmbH
The TTE-Europe GmbH, headquartered in Dresden, belongs to the Constellation Software Inc. (CSI) Group, a company listed on the Toronto Stock Exchange in the S&P TSX60.
For more than 30 years, TTE-Europe and its affiliated undertakings have developed a solution for logistics, stockpile management, and track & trace of various products. Its portfolio includes comprehensive consultancy services, specification development, specialized hardware, and software modules to complete turnkey solutions.
Besides others, TTE has specialized in track & trace solutions for explosives and weapons. As a result, hundreds of clients worldwide, especially explosives manufacturers, mining operations, firearms, or military unit producers, rely on TTE solutions.
In particular, an specialization in the provision of feasibility studies enables us to respond intensively to the requirements of our customers.
TTE has established a global partner network to provide the best possible services on a local level.